Bazi Profile
Interpreting Your Bazi Profile – Career & Communication with Others
In the Being Happy and Successful series, we focus more on your DNA (Character, Motivations and Passions) or your Bazi Profile.
For us to take a step towards happiness and success, it is important to understand and be aware of our make-up, motivations, and passions. We can then take steps to make changes if we are not behaving correspondingly.  Change begins with AWARENESS; thus by understanding ourselves better (similar to the Western profiling systems), we will be able to develop our talents into strengths.  This will give us the ammunition towards success in life.  All these should be done whilst managing any weaknesses that may derail us.
To be Happy and Successful at Work and in Your Career, it will involve:
If you are interested in starting your own business, you may be wondering if you have the characteristics to be an Entrepreneur and who will be part of your WIN team. This is covered in E-Book 3 : "The Entrepreneur in You".
Below is our recommended route to Being Happy and Successful.
Welcome to your journey to Being Happy and Successful – through understanding Bazi Profile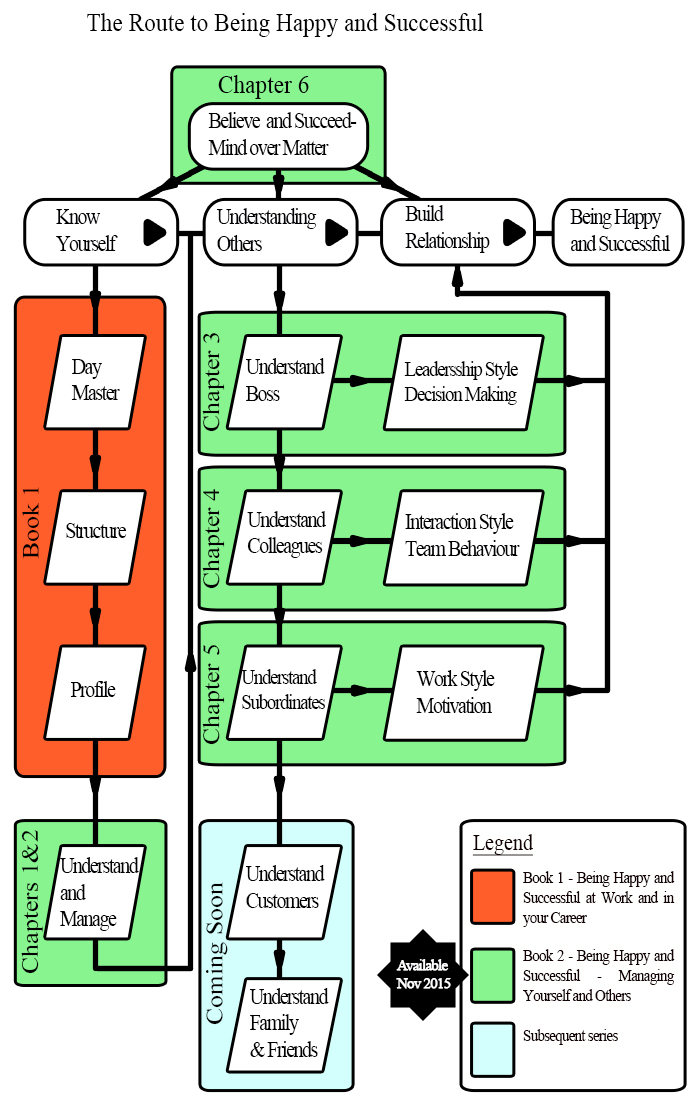 By building effective relationships and communication with others, we can positively influence and work with them to achieve success, happiness, and our common goals. Through years of research, studying, applying, and advising numerous clients on the metaphysical science of Bazi, the above flow chart shows our recommended route to Being Happy and Successful in life.
Though this may be a long and arduous process, it is important that you enjoy and learn during this journey to the attainment of happiness and success in life.
Get my Career Profiling Report now.
Testimonials
"The interesting thing about my BaZi profile is that it confirmed my understanding of my personality enabling me to better comprehend my decision making process. It allowed me to make better decisions as I understood how my personality affected the decisions I make."
Mr Alvin Wan, Managing Director,
Allport Cargo Services Pte Ltd, Singapore
"A uniquely Asian Concept for Leadership and Organizational Development, Janet has been able to move from simplifying the concepts of BaZi or commonly known as the "Four Pillars of Destiny", to now focusing on the applications of this incredibly practical system in organizations. Being Happy and Successful allows the reader to understand how he/she can impact others utilizing what is learned from BaZi. Finally Asia has a book that can be the basis of Leadership and Organizational Development based on Chinese Metaphysics and Astrology that dates 2000 years. Janet's latest book is sure to make a huge impact on leaders and their organizations in Asia and everywhere."
Benjamin Q. Avancena, CEO & Senior Partner,
OneAsia Healthcare Solutions Pte Ltd, Asia Pacific
Read articles on Bazi Profiling on http://janetyung.com/articles/complete-archives/.