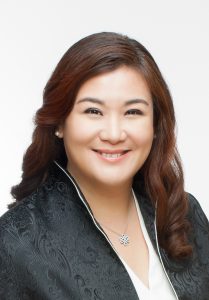 Janet Yung
Feng Shui & Bazi Consultant. Author. Harmony Adviser
A former corporate high-flyer, Janet was the Director of Sales & Marketing in a Fortune 500 company before pursuing Feng Shui full-time. Combining more than two decades of corporate experience with her Feng Shui and Bazi knowledge, Janet is known for her thought leadership in customizing training and consultations that relate to workplace harmony and business success.
She has a robust track record of using her extensive corporate experience and knowledge in Feng Shui and Bazi destiny analysis in factory/office/ shop/retail mall, home, management, people development, business partnership and personal consultations, training courses and talks in Asia. Her consultancy spans across businesses, both private and listed companies, including education, health care, legal, spa & beauty, retail, engineering, logistics, manufacturing, food & beverage, banking, shipping, IT, among others.
In 2012, Janet authored her first book "Being Happy & Successful at Work and in Your Career". The book was well-received and known among many who wanted to discover their inborn talents; excel at them and choose job roles or careers that capitalize on their strengths, leading to success.
In 2015, Janet went on to publish two more books in the "Being Happy and Successful" series – "Managing Yourself and Others" and "The Entrepreneur in You" (e-book).
A Bachelor of Business Administration graduate from the National University of Singapore, Janet's passion for training and people development is further extended to her pursuit in Feng Shui where she conducts talks and interviews for companies, individuals and the media on the basic concepts of the 2000 year-old metaphysical study.
Under the tutelage of Grand Master Lillian Too, Janet Yung had graduated with top distinctions from the Grand Master's certified Feng Shui Programmes – Master Practitioners Course (MPC) and Master Consultants Course (MCC).
Other credentials:
A  Singapore WSQ ACTA (Advanced Certificate in Training and Assessment) certified trainer, avid reader and keen learner, Janet has a slew of credentials under her belt. These include courses from:
– Grand Master Raymond Lo, Master Francis Leyau, and other international masters like Joey Yap, where she attained a Distinction in Diploma from the Bazi Mastery Series, Qi Men Xuan Kong Da Kua, Qi Men Destiny, Forecasting, Feng Shui and Strategic Execution programmes;
– She is currently an affiliate of the DYD (Design Your Destiny) Program for Mastery Academy of Chinese Metaphysics which offers modern approaches in learning, coaching, skills development for academic and career success.
Interviews:
Career Feng Shui Tips – Cleo Magazine Jan '05 *
Chinese New Year Traditions – Today Paper, Feb 1 '07 *
2007 Horoscope Forecast –Spring Magazine (Northeast CDC) Jan/Feb '07 *
2007 Horoscope Forecast – Abuzz Magazine (STPB) Jan/Feb '07 *
Get That Pay Rise with the Right Feng Shui – Cleo Magazine Mar '07 *
Make Room For Me (Love/ Career Feng Shui Tips) – Cleo Magazine Nov '07 *
The way of your Career – Cleo Magazine Jan '09 *
2010 Horoscope Forecast – Love The Life Magazine, Jurong Point Jan '10 *
Your Zodiac 2011 – Year of The Rabbit – The New Paper Jan '11 *
Love Fengshui – Tips For Those In, or Looking For Love – The New Paper Feb '11*
Tips for new homeowners & Zodiac 2014 Luck – Frasers Centrepoint Malls Jan '14 *
Zodiac 2015 Luck – Frasers Centrepoint Malls (Causeway Point, Compass Point, Yew Tee Point, Centrepoint & North Point) Jan & Feb '15
Tel : +65-67945772 (JP); +65-68933788 (CWP); +65-82897959(Office Hours)
Email : info@8treasures.biz
Website : www.janetyung.com;  www.8treasures.biz
8Treasures Retail Outlets :
#03-139 (next to Fairprice Extra), Jurong Point 2 Shopping Centre.
#03-K05, L3 (opposite Popular Bookshop), Causeway Point
Office : 
1 Scotts Road, #24-10, Shaw Centre, Singapore 228208