Bazi Career Profiling
The Asian Personality Profiling System?

The key to SUCCESS in life lies in knowing WHO you are, and WHAT you need to do to get the RESULTS that you want. Get your Bazi Career Profiling Report today to understand how you can go from GOOD TO GREAT.
WHAT ARE THE BENEFITS OF KNOWING YOUR PROFILE
Greater understanding of your own ROLE in life, and a renewed sense of purpose.
Gaining key insights into your career path and the job, best suited to your personality.
Obtaining expansive knowledge on your talents and strengths, attributes and characteristics strengths to develop.
Learning skills to build genuine bonds with the people in your life.
View problems and challenges that come up at work as potential opportunities for greater success
Easy to learn, simple to apply!
HOW DO YOU GET FROM WHERE YOU ARE TO WHERE YOU WANT TO BE?
As shown in the short clip, there are aspects of our own character that we may not be aware of. Everyone has varying aspects of personality traits that form their character.  This creates different facets of ourselves, some obvious to others while others are not.  It is important for us to understand these perspectives so that we can better manage ourselves and the perception of us to be more successful.  At the same time, we will also be able to achieve better communication and relationship with others.
In this Career Profiling report, you will be introduced to the various aspects of your personality utilizing the Janet Yung Profile Quadrants™ (JYPQ) Chart.  With your JYPQ chart, you will discover the obvious personality profile(s) that make a difference to your career as well as the roles that you are passionate about and what motivates you for long term career success and development.
Areas covered in this report include:
Day Master – Defining who you are and your characteristics.
Structure/ Approach – The way you approach tasks and preferable work environment.
Your Most Obvious Profile(s) in the Focus Quadrant – The profiles that are obvious to others and have a higher influence in your chart .  If you focus on these roles, you will have a higher probability of success and recognition in your career.
Your Base Profile – The job role that you enjoy performing the most.
The possible de-railers in your personality that you need to learn to manage.
Application charts for working towards your successful career.
The Janet Yung Profile Quadrants™ Chart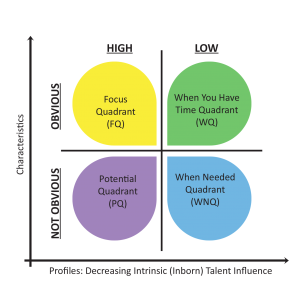 Usual SGD 39.99.  Now SGD 19.99 only

View the Sample for Career Profiling Report here: